Custom, Lake Homebuilders Help Design Your Home for Lake Life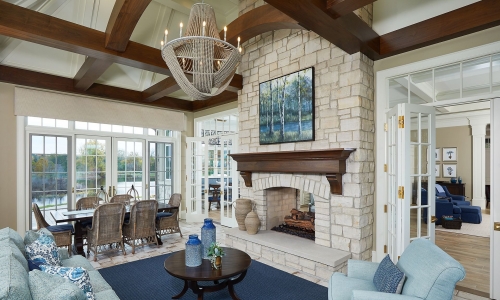 When you own lakefront property, using custom homebuilders experienced in building on the local lakes can be a great benefit in designing your ideal home. Lake homes present both unique challenges, and opportunities, that can benefit from an experienced builder who can help you understand the possibilities. Glas Associates has years of experience working with homeowners to ensure that their lakefront homes are designed and built to their expectations. Continue reading to see some of the considerations that we look at when designing homes.
1. Getting your house on the lot
Understanding your lot conditions can have a big impact on both costs and avoiding future problems. We have great experience in challenging soil conditions, understanding storm drain issues, and making sure your lot starts out on a solid foundation. Other environmental issues such as wind exposure and sun can be planned for in the structural design of the lake home.
2. Orientation, flow, and maximizing your lake views
Where you position a home on a lot, can have a big impact on how much you love your home. Things like the views, the land, the neighbors, and the light, can all have an impact. Even a question like, "where are your going to store your kayaks?" often leads to an interesting discussion. The flow within the space also makes a huge difference, and we can share many of the things we've learned along the way designing and building custom lake homes for decades.
3. Zoning restrictions and the design of your lake home
Because of your local zoning restrictions, your home will need to be built within certain parameters on the property. Smaller lake lots can often be challenging, especially when trying to maximize your space in all directions, including up. We can help to understand these legal rules and design a home that does our best to both comply and provide for all your needs.
With the custom lake homebuilders at Glas Associates working on your home, you can be sure that your patio space will be optimized, and that we will do our best to think about the right kinds of spaces and storage for you. When you aren't quite sure where to start with a piece of property, trust that our experience in building custom lake homes will be of great value to your project. Contact us today to get started on your lake home with an efficient building process and your future lake-life living in mind.